Bringing a product to life can be a laborious process, especially if you're not familiar with its development cycle. Conceptualizing a design may be the easiest part but making it a reality involves several stages that can make or mar the success of your idea. The complexity of the development process can be a hurdle for various professionals, including mechanical engineers, buyers, and designers. However, this blog is here to help you understand the "Concept to Product" cycle, a simplified guide aimed at helping you appreciate the stages involved in getting your products off the conceptual stage and into the market.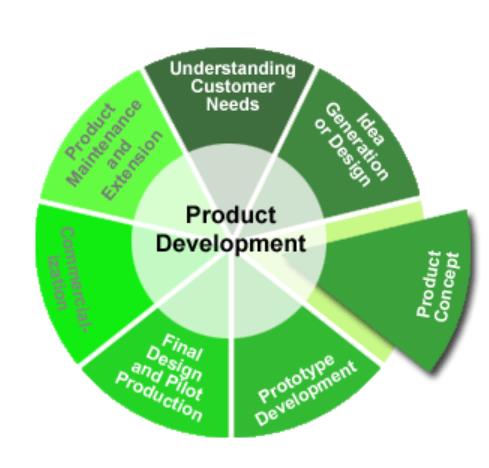 Step 1: Ideation Phase
The first stage of the "Concept to Product" stage is the ideation phase. This is where the brainstorming and ideation sessions occur, and the product's design is settled. This stage is quite crucial, and you may want to spend ample time on it, as it will likely define the success of your product. First and foremost, you need to identify the need you're hoping to meet with this product. Identify areas of opportunity or untapped markets where this product could be useful. Additionally, you should create a market analysis to ensure it will be profitable.
Step 2: Design Phase
The next stage is designing the product. You will use the outline from the ideation phase to create a digital or physical model of the product. The design phase will include the various materials required, the manufacturing process, cost of production, and product functionality. During this stage, you will create product specifications, draft 2D or 3D designs, and fine-tune the details of the concept.
Step 3: Prototype Stage
The prototype stage is where you bring the product to life. This stage involves the creation of a preliminary version of the product. You can use PROTO MFG's manufacturing services(CNC machining, sheet metal, urethane casting, compression molding, 3D printing) to create an initial model or have a single unit created. The created prototype is a preliminary test of the product, and there will be several modifications to ensure it aligns with the specifications.
CNC Machining
CNC machining is a common manufacturing process used to create a variety of parts and components for machines, vehicles, and consumer products. At PROTO MFG, we use 3, 4, and 5-axis CNC machines that offer high accuracy and precision. Our CNC machines can work with a range of materials, including aluminum, brass, copper, steel, and plastics such as ABS, polycarbonate, and nylon. With the use of our CNC machines, intricate designs can easily be accomplished and costs can be minimized. One significant advantage of CNC machining over other manufacturing processes is that it relies heavily on computer programming, making the manufacturing process mostly automated and eliminating the potential for human error.
Sheet Metal
Sheet metal is one of the most versatile manufacturing processes, as it can be used to create a variety of parts, including prototypes. PROTO MFG's sheet metal service incorporates both bending and punching machines, enabling us to fabricate high-volume and low-volume parts cost-effectively. We use a range of materials, including aluminum, brass, copper, stainless steel, and mild steel, which enables us to produce durable and dimensionally accurate sheet metal parts.
Urethane Casting
Urethane casting is a popular manufacturing process when creating low- to mid-volume plastic parts. It is an alternative to injection molding that mimics the look and feel of injection-molded parts but at a lower cost. PROTO MFG's urethane casting operation includes state-of-the-art equipment that ensures high-quality parts. Our molds are usually made from silicone rubber, and our casted urethane parts are available in different colors and hardness levels.
Compression Molding
Compression molding is a manufacturing process used to create larger and more complex parts. The material heats and softens, allowing for the injection of air into the mold cavity, which forms a final part that is both dense and lightweight. At PROTO MFG, we can create composite parts using carbon fiber, fiberglass, and Kevlar. This process is ideal for creating parts with complex geometries and shapes, as well as parts that require high strength while being lightweight.
Step 4: Testing and Refinement Stage
Once the prototype has been created, you need to test it to ensure it functions as intended. This stage involves evaluating the product's performance, durability, and safety. Make sure the new product meets quality standards or governmental regulations. During the test process, any modifiable elements of your product will be refined, and several prototypes may be developed before settling for the final product.
Step 5: Production
The final stage is a time to get excited as it's the production stage. You are finally ready to go to market. During this stage, your manufacturer will create a final prototype, ready for mass production.
Injection Molding
Injection molding is one of the most popular manufacturing processes for producing plastic parts at scale. However, the process usually requires expensive tooling and machinery, making it too costly for low-volume production runs or prototyping. PROTO MFG's injection molding service allows for the creation of multiple injection molding tools at a fraction of the cost of traditional methods, making our service suitable for low-to-mid volume production runs.
Conclusion:
Finally, this is a wrap-up blog that emphasized the "Concept to Product" cycle and broke down some critical stages of the development process. Understanding these stages can help mechanical engineers, buyers, and designers get their product off the conceptual stage and into the market. By following these steps, you can avoid hiccups that may occur during product development and increase the chances of a successful launch. We hope that you found this blog informative and insightful. Remember, the process from concept to product will take time and effort – ensure you take time to design the best possible product which ensures a quicker time to market.